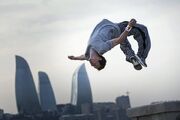 Ryan Doyle (born 22 September, 1984) is a British freerunner, Traceur, martial artist, actor, and coach. He, along with Daniel Ilabaca, founded the World Freerunning and Parkour Federation (WFPF). He is also sponsored by Red Bull.
Ryan Doyle trained in the Korean martial art of Kuk Sool Won. His freerunning career was started when, despite his poor eyesight, he won the Red Bull Art of Motion competition in 2007. However, in the same competition he broke his shinbone after missing the mat while attempting a triple cork off a 12-foot drop, requiring a 33 cm bar to be screwed into his shin. However, he made a full recovery and won the AoM again in 2011.
He has also acted in several movies and TV series such as National Geographic's Fight Science, MTV's Ultimate Parkour Challange and 2011 film Freerunner.
Ad blocker interference detected!
Wikia is a free-to-use site that makes money from advertising. We have a modified experience for viewers using ad blockers

Wikia is not accessible if you've made further modifications. Remove the custom ad blocker rule(s) and the page will load as expected.